Grandparents/Special Friends Day
Posted November 8, 2022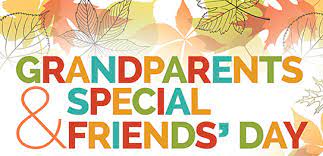 Grandparents and Special Friends are invited to a special FOSS sponsored day at Slavens K-8 School on Nov. 18th.
Please join us for an assembly and classroom visits. 
See a schedule for the day and RSVP below.
8:15-8:25 Arrival of guests 
8:25-9:00 All school assembly
9:00-9:10 Guests stay in the gymnasium for more information
9:10-10:50 In classroom or specials with students
10:50-12:00 Library will be open for guests to have refreshments & to wait for students.
12:00 Dismissal
Check out this video from our last Grandparents/Special Friends Day to see what the day looks like.
RSVP Here